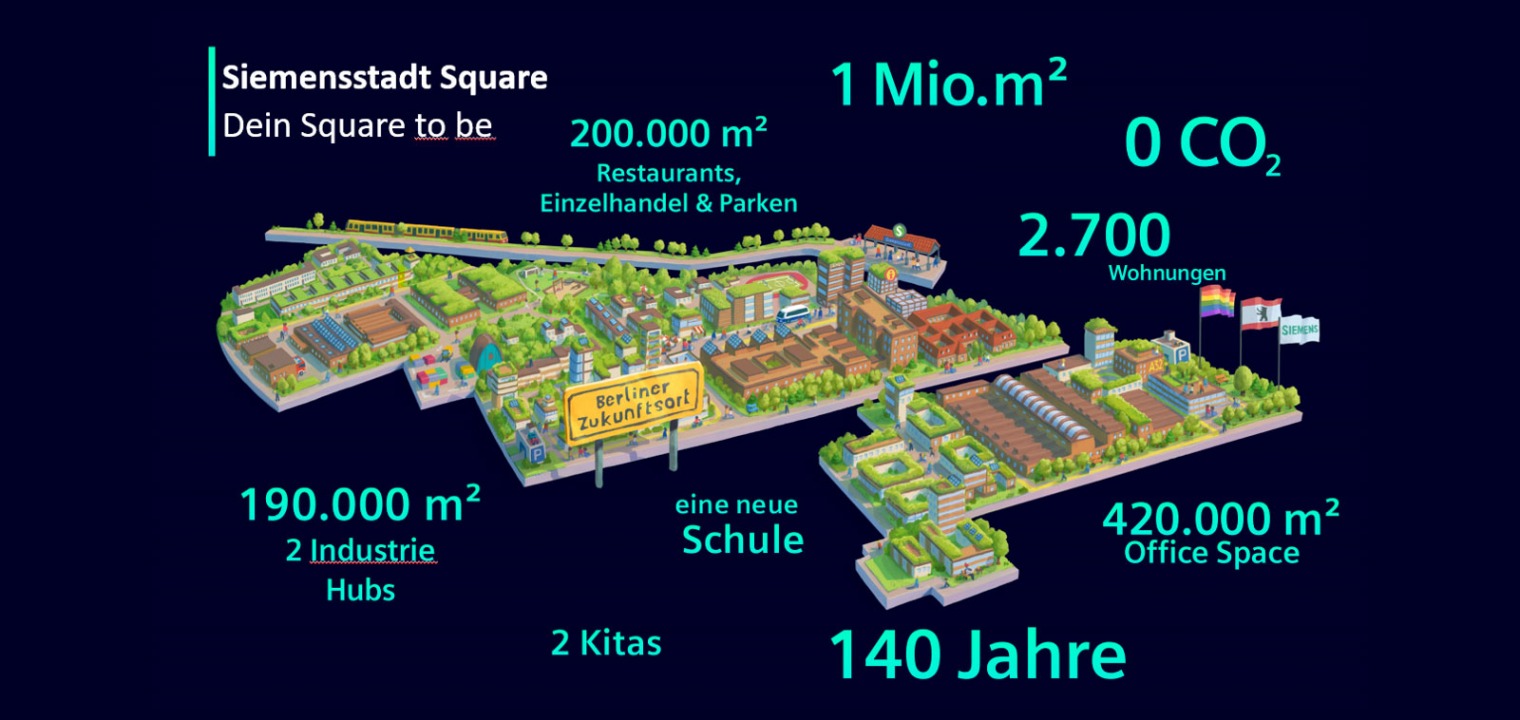 Siemens representatives Cedrik Neike, board member and CEO Digital Industries; Zsolt Sluitner, CEO Siemens Real Estate; Stefan Kögl, General Manager of Siemensstadt Square and the chairwoman of the representative body for the disabled, Marina Zdravkovic, spoke to the employees at "Let's Talk Siemensstadt". In the citizens' forum, Stefan Kögl and Marina Zdravkovic presented the key data of the new urban planning framework agreement together with Benjamin Melcher, Siemensstadt Square Project Developer and Anina Böhme, Berlin Senate Department for Urban Development and Housing.

The clear message at both events was that planning Siemensstadt Square needs to be a collaborative effort. That's why we're currently developing a long-term participation concept with the city of Berlin and the district of Spandau. Over 1,100 ideas have already been submitted by citizens and employees, and many have been incorporated in planning. The extensive green and public spaces are the result of this participation, as are measures to achieve climate-neutrality like roof gardens and a plastic-free campus.

Marina Zdravkovic explained why accessibility is also essential for a truly open and livable area: "Inclusion is good for everyone. Families and seniors ultimately benefit from accessible urban planning." Along with her fellow representatives of severely disabled employees, she's ensuring that inclusion will be built into Siemensstadt Square from the very start: for example, when planning building entrances, accessible apartments, and the Siemensbahn.

And what are the next phases of planning? When will construction begin, and when will the first new buildings be finished? Visible changes and the first site fences will begin to appear next year. "As early as the end of this year, we'll start clearing the construction area for the new office buildings and public information center," Kögl explained. The official groundbreaking ceremony for the new buildings will take place at the end of 2022, and the cornerstone will be laid in mid-2023.