How will we travel from A to B in 2030? Will we still have our own car? Is Autonomous Driving really more efficient? And what does a "smart train station" look like? We are discussing tomorrow's mobility in the city of the future - with Ingmar Streese, Berlin State Secretary for Transport, Michael Peter, CEO Siemens Mobility and Stefan Kögl, General Manager of Siemensstadt.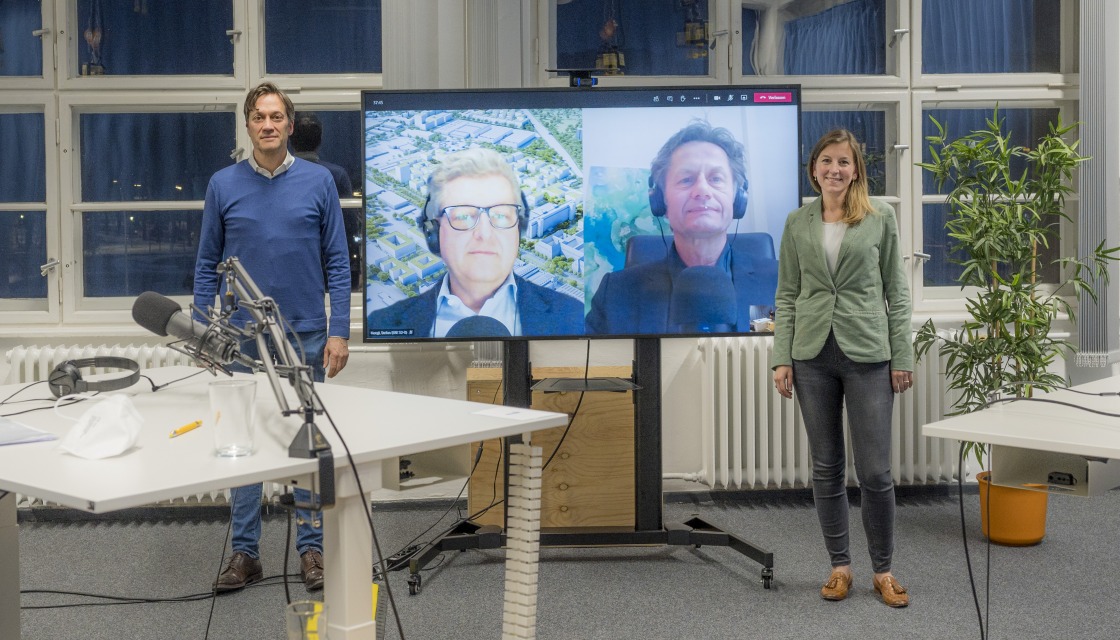 Mr Streese, in the last two years you have been working on the implementation of the Berlin Mobility Act, which is intended to regulate future traffic in the capital.
The Berlin Mobility Act is a pioneering law with a very comprehensive catalog of measures. When it comes to road safety, our guiding principle is "Vision Zero", i.e. minimization of seriously injured or fatal accident victims in city traffic. To do this, we are converting high-risk intersections to make them safer. At the same time, the law promotes climate protection and the environmental network of local public transport, bicycle, and pedestrian traffic. With 28 billion Euros by 2035, this is the largest investment program of all time for Berlin's local transport. In addition, we want to build a network of 3000 kilometers of cycle paths by 2030.
Is that realistic? Until now, only 100 kilometers of cycle paths have been implemented…
Such a large program always needs starting time. We have to plan, create jobs, provide a budget. But I am optimistic that we will manage the 3000 - and even more: We have planned 100 kilometers of high-speed bicycle connections so that commuters can get to work faster by bike. There will also be more bicycle streets, bicycle parking garages and parking racks - 100,000 parking spaces by 2025. In pedestrian traffic, we want to make crossings easier, safer, and accessible. Overall, traffic in Berlin will become more people-friendly and city-friendly. We are currently also working on a section of the Mobility Act to organize data-supported new mobility and city-friendly commercial transport.
Mr. Peter, which technology trends do you see for this vision of future mobility?
There are two trends that are changing the world right now: climate and urbanization. Traffic produces 25 percent of greenhouse gases – we will never be climate-neutral without clean traffic. At the same time, around 70 percent of the people will live in cities in 2050. So, the need for mobility grows and traffic will become more complex. That means, we need smart solutions for local public transport, which is now already being expanded in Berlin. There will be various solutions for the "last mile" from the bus stop to the final destination - from rental e-scooters to autonomous minibuses to bicycles. E-mobility will play a major role - not only in local transport, but also in the cars that we will continue to need in overland transport and in smaller cities.
Mr. Kögl, how do plan to include new mobility solutions for Siemensstadt?
We have the advantage that we can design our district in advance. Today, for instance, cities have to allow for car traffic - but they were built when there were no cars. We are planning Siemensstadt with the possibilities that will be available in the future. The challenge, of course, is that we also have to adhere to the current regulations. We have to maintain a certain flexibility because some parts of the area will be built in ten years. Basically, however, we will rely on digitalization, which can connect different mobility concepts. Digital solutions make it possible for you to arrive in a city and find your way around straight away.
Mr. Peter, what will the experience be for future passengers at the new Siemensstadt S-Bahn station?
They arrive, for instance, at the airport and want to reach a certain location in Siemensstadt. Then they can already see in their app which S-Bahn wagon I have to get on. People are brought together who have the same goal. They all get off in Siemensstadt and can then take the same self-driving minibus to continue their journey. The buses are "demand responsive". So they already know how many people will arrive and where they are going. That way, every passenger gets the comfort of a taxi for the price of local public transport.
Such an "app for everything" requires that all actors participate and agree ...
Peter: We at Siemens develop these multimodal apps and have already equipped entire countries and cities with them. It's a political issue, of course. Not every transport association wants to give up their sales channel. That's why a political decision is required, so that tickets can be bought for everything in this app. But the advantages are obvious, so I'm confident that this will work.

Streese: Such an app is very helpful, but it is not everything. There must be different options at every mobility station, from e-scooters to rental bikes to local transport. Which app will prevail remains to be seen. We in Berlin are definitely open to everything – also for the self-driving minibuses, that are currently already tested here.

Mr. Kögl, will the autonomous minibuses also run in the new Siemensstadt?
We are planning for autonomous driving. Overall, it is important for us to get away from this rigid system consisting of footpaths, cycle paths and streets. We want to build so-called multimodal roads that can be used as required. Over the years, we want to incorporate all possibilities. We are already planning the distribution of individual car traffic using mobility hubs that will be located at certain points in the area. In later planning phases, we have multi-storey car parks in the city map - however maybe, they will never be implemented.
Isn't a multimodal road totally dangerous for cyclists or pedestrians?
Not when the traffic is moving slowly. And when the city is not planned mainly for car traffic, but with the most important question in mind: "How do I get from A to B in the best and safest way?"

Keyword autonomous driving: As a Berliner, why should I give up my car? Why is the self-driving car better or more environmentally friendly than the one I drive myself?
Peter: It's only more environmentally friendly if several people drive in it together. I assume that in the future, all cars will be CO2-neutral. The self-driving vehicles will initially have no advantage over private transport. When I drive into the countryside from here, I prefer to drive myself as well, because it's fun. However, the progress for local transport will be blatant. The bus driver currently accounts for half of the cost position, which is why there are long cycle times, as well as very long buses and stops that are far apart. Self-driving vehicles drive a route when as needed.

Streese: I want to point out that our attempts with carpooling until now have not resulted in getting people out of their own cars. They just use local public transport less. Also, pooling has not been lucrative. Nevertheless, this is interesting for us in Berlin, and we like to learn from other cities in this regard.

Mr. Streese, for Siemensstadt, a completely new transport system is being planned. What is the role of the city of Berlin in this?
We collaborated on this with Siemens at an early stage, also when it came to the tender for the urban development competition, which called for a concept for little car traffic. If you want to set up a car-reduced or even car-free neighborhood, you need parking at the outskirts, for example. The city can also arrange for the traffic routes into the district to be equipped with bollards so that the district is spared from through traffic and from unnecessary traffic. In principle, it is important in any planning phase that the city administration and the investor work closely together!
What do you look forward to specifically when you think about the future of mobility?
Kögl: To the vision described by Mr. Peter: I arrive at the airport, the autonomous car is already waiting and drives me straight to my destination.

Streese: To moving around in a climate-friendly environment without noise.

Peter: To the most beautiful Berlin streets that have large bike paths, playgrounds, and cafés instead of traffic.