Perhaps you have already seen it: The first construction fence in Siemensstadt Square is up!
And behind it? The preparatory construction measures are in full swing for Module 1, the future entrance area of the new city quarter. We are currently clearing the building site. What exactly does that mean and what happens next?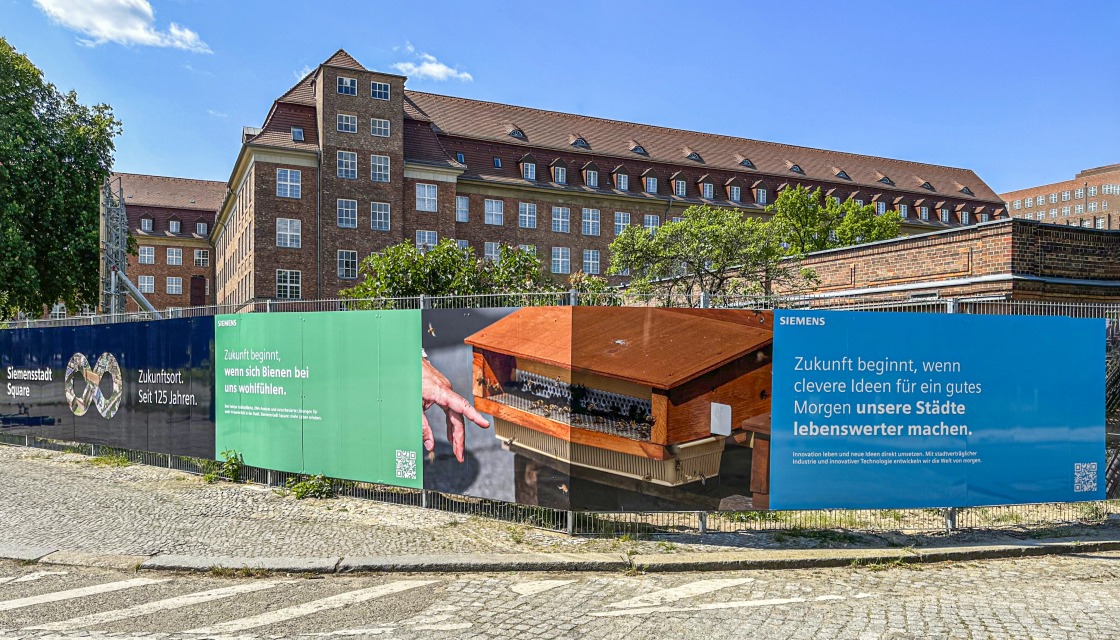 The future entrance area of Siemensstadt Square will be liveable and open to all. About 20,000 square metres of open space, north of the historic administration building by the Siemensstadt S-Bahn station, will be used to create an attractive city square. Here there will be high living quality, a climate garden, water features, and foot and cycle paths along the S-Bahn embankment. Three new modern buildings with high levels of sustainability are being built here:

• An information pavilion with sufficient space to inform the neighbourhood about the changes in the quarter.
• An attractive high-rise building with a height of 60 meters.
• A light-flooded atrium building will be the Siemens Hub Berlin.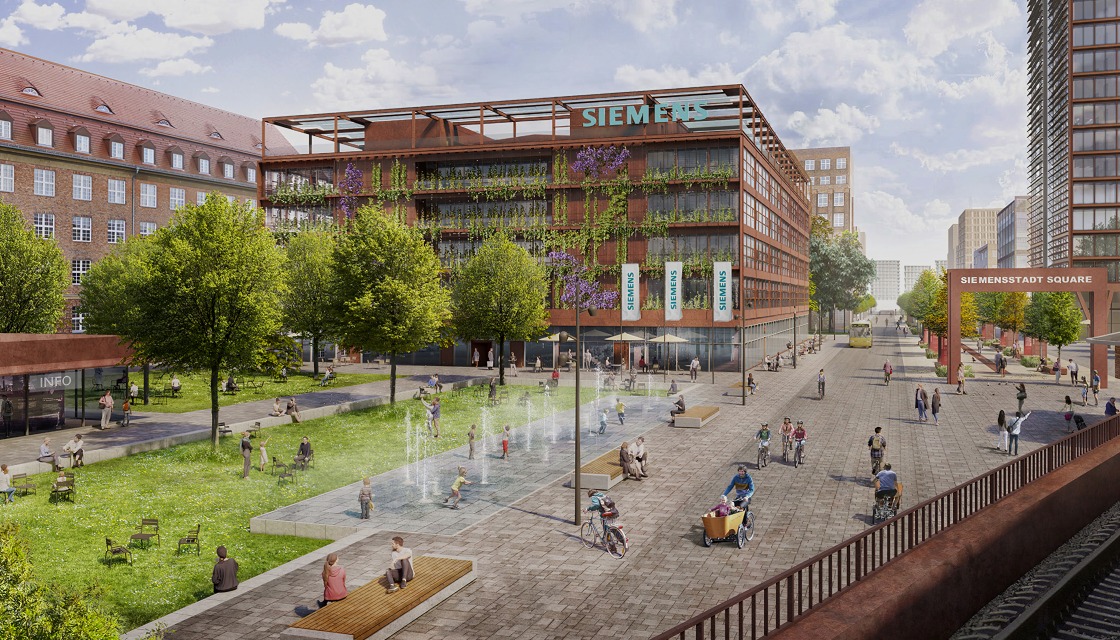 The city of Berlin is currently working on a development plan for this area. This will not only regulate how the new areas and buildings will be used, it will also regulate the implementation of footpaths, cycle paths, tree planting, green roofs and building facades. The plan was on public display at the Senate Department for Urban Development, Building and Housing until 25 August 2023, where interested citizens were able to leave personal comments. It can still be viewed publicly on the internet.
Extensive preparation

Before construction and planting can really get underway, the so-called "site clearance" must be completed. This is often the case when a development site has has been built upon for previous urban purposes. The planned site for the future entrance area was once a car park for Siemens employees.

Clearing the 20,000 square metre construction site is a lot of work. It requires the dismantling of old buildings, the recycling of valuable materials, the disposal of construction waste, the removal of soil, the removal of pipes and cables and possibly the laying of new ones - and much more.

Construction fence secures access

All this is currently happening behind the construction fence that has been set up around the site for several months. But the fence also has an additional function. Work must continue on the Siemens premises directly adjacent to it. The construction fence separates this area from the construction site and thus enables safe access to the work site. A turnstile system was moved for this purpose. At its new location, it currently not only secures authorised access to the Siemens site, but also regulates construction site traffic.